Are you considering installing a backsplash in your home? A backsplash is a great addition to any space, and is both functional and aesthetically pleasing, protecting walls from cooking messes and adding interesting detail to any room. A backsplash is like a great piece of jewelry that puts the finishing touch on your favorite outfit.
When you begin researching backsplash options, you may be overwhelmed by the all the decisions you make before you even settle on a design — materials, sizes colors, installation methods, price, maintenance and upkeep are all things that must be considered before making the investment.
The first thing you'll need to consider is the look you want to achieve. If you're one of those people who know they want a backsplash, but have no idea where to start, consider taking our What's Your Style? quiz. It can give you some options based on your answers that might appeal to you.
Once you decide upon the style you want, you can choose your backsplash based on different things: materials, color/design, size or budget. We'll go through each in this backsplash buying guide.
Materials
There are a number of backsplash materials on the market which vary in cost and installation methods. Here we list some of the more popular options.
Metal
Metal backsplashes are made from stainless steel, traditional tin tiles and copper, for example.
Stainless steel is easy to clean, resists scratches, and won't rust or corrode. It's available as flat galvanized sheets, embossed, and with brushed or polished surfaces. You can order custom sizes, but stainless steel requires special tools to cut and the skills of a contractor to install. The average cost for a stainless steel backsplash, not including labor, ranges from $13 to $21 per square foot.
Traditional tin tiles are less expensive than stainless steel and are fairly easy to install. They are also heat resistant. But tin is soft and care must be taken or it will dent. Costs for real tin backsplash tiles range from $3 to $11 per square foot.
Copper adds a rustic look to any kitchen, with a deep, rich finish. It is easy to clean and good for use around hot surfaces. However, like tin, it can be damaged easily because it's soft. It also needs to be polished periodically because the natural oxidation process will turn it green. The cost for copper sheeting ranges from $25 to $45 per square foot.
Aspect Peel & Stick Metal Backsplash Tiles are an eco-friendly, affordable alternative to high-end installations. They are made from 60 percent recycled material and 99 percent of the waste in the manufacturing process is recycled.
The 3×6 size tiles are available in stainless, champagne, copper and bronze finishes with either a short grain or long grain brushed finish direction for many unique light catching configurations.
Aspect metal tiles cost about $16 per square foot.
Aspect Matted Tiles are available in honeycomb, mini Subway, wavelength, wide hex, mini herringbone and squares styles in stainless and champagne finishes. These backsplash tiles consist of smaller pieces matted together. Three matted sections cover about 1 square foot.
Aspect metal tiles cost about $16 per square foot.
Aspect Distressed Metal Tiles are made of real metal and are available in five beautiful options including bronze, copper and other patinas.
Panels measure 23.63 inches x 5.9 inches and are available in a 3-pack or about 3-square-feet of tile and 15-square foot kits.
Glass
Glass, a timeless backsplash material, is durable, easy to clean and fairly easy to install. It is available in a range of formats and sizes, including recycled and solid glass sheets. Installing traditional glass tiles can be an involved process, much like installing other traditional tiles. It requires a wet saw for cutting irregular pieces, applying thin set mortar, using tile spacers and applying and sealing grout.
Aspect Peel & Stick glass tiles are a great alternative to glass tiles applied with grout and are perfect for the DIY'er. Simply peel and stick for instant appeal. Available in 3×6 sizes and a matted mosaic format, they require no grout and can be arranged vertically, horizontally or in any other creative pattern. Use different colors throughout to make even more visually interesting.
Aspect glass tiles cost about $18 per square foot.
Wood
Once considered an unconventional backsplash material, wood backsplashes have increased in popularity in recent years. With a rustic look and texture, combine for a unique addition to any kitchen. And, with a seemingly endless variety of species looks and plank sizes, wood can easily complement any décor scheme.
Aspect Peel & Stick Wood Tiles are the newest addition to the wood backsplash market. The multi-dimensional mosaic-style panels are made of real wood but are applied to walls with peel and stick adhesive making it the easy, DIY way to add the timeless look of wood to walls without a contractor. They're available in 2 beautiful colors to add depth and character to any design scheme. Panels measure 6.5 x 24 inches and are available in a 5-pack or a 15-square-foot kit.
Ceramic & Porcelain
Tile backsplash options abound.
Ceramic is probably the most common and it's a popular choice because it's durable and low maintenance. Prices vary per square foot depending on the design or format.
Porcelain is another popular tile option and includes mosaic tiles which consist of small pieces of tiles made from any of these types of materials.
All such tiles are applied to the wall with thin set mortar. Grout is then applied between tiles. The grout joints should be sealed otherwise they can become stained from cooking messes.
Ceramic & porcelain tile prices start at around $2 per square foot.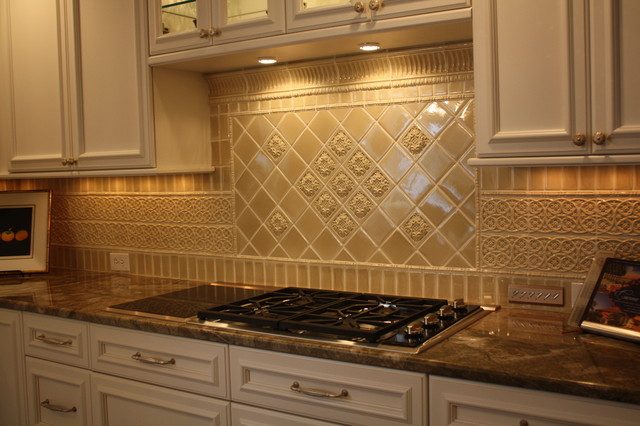 Natural Stone
Natural stone tile consists of materials such as granite, quartzite, sandstone, limestone, marble, onyx, slate and travertine, for example. Natural stone tile is more expensive than ceramic, and the variances in texture and color can make it tougher to clean. A sealant should be applied after installation due to its porosity.
The appeal of stone as a backsplash material is timeless as it adds a rugged yet warm elegance to any kitchen or bath. Favored for is durability, it symbolizes permanence and strength and is a natural choice for many homeowners.
Aspect Peel & Stick stone tiles, which are made of genuine, thin-cut stone, are crafted to form a revolutionary lightweight and flexible tile product that is easily applied with simple peel and stick application. They offer the look and texture of designer stone tile but at a fraction of the price of other stone products because they do not require a contractor, grout, mortar or complicated or expensive tools to install.
Available in 9 beautiful colors from a carefully curated palette of rich shades, Aspect stone tiles are the perfect choice for the DIY homeowner.
Decorative Vinyl
Decorative vinyl backsplash panels are an easy DIY alternative to real tin backsplash for the budget-minded consumer. Measuring 18"x24" each, Fasade faux tin backsplash panels are available in 13 designs and 20 finishes to provide over 250 combinations. They are impervious to water, impacts and stains and provide a designer look at a fraction of the cost of traditional backsplash materials. The panels are great for homeowners because they are easy to install and require no special tools. Fasade panels attach to the wall with double-sided tape or construction adhesive.
Color
There are a wide variety of color options among backsplash materials. You can find ceramic, porcelain and glass tiles in nearly every color of the rainbow.
Fasade faux tin panel colors are grouped in six color families. Options include bronzes, coppers, pewters, silvers, golds and whites. White backsplashes can be painted for a completely customized look.
Aspect metal backsplash colors include brushed bronze, champagne and brushed copper, three looks like look particularly striking on metal. Aspect glass colors include earth tones such as Frost, Leather, Steel, Putty and Rustic Clay.
Design
The design options for backsplash are practically endless. In addition to color and patterns, consider all the different formats from which to choose. Whether it's mosaic or subway tile or a panel of decorative vinyl, you have plenty of room to explore your creativity and design aesthetic.
Shop DIY Decor Store by design.
Accessories
Accessories are available for both Aspect Peel & Stick and Fasade Faux Tin backsplash products. Matching outlet covers and trims allow you to put the finishing touch on your backsplash project.
Shop for backsplash accessories.
Size
Another way to choose a backsplash option is by thinking about the size of material you want to use. This varies among products. Typical ceramic tiles measure 4.25" x 4.25". Other sizes include the popular 3"x6" subway style format. Glass mosaic tiles typically come in 12"x12" sheets and consist of groupings of smaller squares or rectangles of various materials.
Budget
Budget is another determinant of the type of backsplash you choose. Depending on material, backsplashes range in price from $10 a square foot on up. Average costs increase when factoring in the labor of a contractor. More inexpensive options include Fasade decorative vinyl backsplash products and Aspect peel and stick metal and glass tiles which do not require grout.
Calculate Material Needed
Once you've settled on a backsplash product, you'll need to figure out how much to buy. To determine the square feet of backsplash you will need for your project, use a tape measure to find the dimensions (height and width) of the area you plan to cover. If you go with a traditional backsplash material, don't forget to factor in the other materials you will need and the expense that will add.
Aspect Peel & Stick 3×6 Metal and Glass Tile Layout Options
There are a number of ways to arrange Aspect 3×6 tiles. Here are six arrangements to consider:
Aspect Peel and Stick Tile layout options
Have you chosen a backsplash material for your project? Or are you still considering all your options? If you have questions, want more information or need creative inspiration, check out our Backsplash Galleries to see all the materials, designs and colors available. Or, if you're not sure what your particular style is, take our fun Style Quiz to get pointed in the right direction. Customer service representatives are also available for expert advice either through our Live Chat or Contact Form.