Considering adding a decorative element to a wall in your home? Whether you want to cover multiple walls or just accent one wall, today you have plenty of options to cover larger spaces and dramatically change the look of a room in just a few hours.
This wall panel buying guide explains your options for improving the walls in your space, all varying in cost and installation methods.
Paint
Painting is probably one of the easiest ways to dramatically change the look of a room. It's also fairly inexpensive. Good quality paints cost $30 to $50 per gallon, which may seem like a lot at first but really isn't considering you won't need multiple coats to obtain coverage. Don't forget to factor in the cost of brushes, rollers, paint trays, drop cloths, painters tape, etc. to the cost of your project if you don't already own these supplies. Between paint and supplies, it costs around $1 per square foot to paint a room in your home.
Wallpaper
Wallpaper is seeing a resurgence in popularity these days. Fresh patterns, textures and designs have replaced the tired options of previous decades and homeowners appreciate the new choices in which to add character to their homes. Costs per roll vary from $30 to $250 or higher, depending on the material, brand, design, etc.
Hanging wallpaper is a fairly easy DIY job, albeit time consuming, especially if you have to remove old paper and do extensive prep on the walls before applying the new. The costs increase if you need to hire a contractor to work around walls that are not plumb or are using expensive paper that you cannot afford to damage during installation.
Similar to pre-pasted wallpaper, self-adhesive vinyl is another wall cover option. Thousands of patterns are available, including custom designs of your own making or by submitting a photograph. Prices for this material are comparable to wallpaper, with custom designs increasing the price point depending on size and vendor. One advantage to some self-adhesive vinyl is that it can be seen as temporary, which may appeal to renters or those who want to change the look of a room more frequently.
Palisade
Made of PVC, Palisade waterproof, grout-free wall tiles and wall planks install in half the time of grouted wall tile and are water repellent and resistant to mold and mildew, making them perfect for wet areas in baths, kitchens and basements.
They can easily be cut to size and, compared to tiles, take about half the time to install because they don't require grout—perfect for the DIY'er who doesn't want the hassle of hiring a contractor. Palisade panels are also easy to keep clean as their smooth surface resists dirt. Just wipe clean with a cloth and forego the harsh cleaning chemicals.
Palisade panels and planks are available in twelve beautiful finishes to match any environment. Palisade tiles come in small and large format options, covering 17.9 to 21 square feet per package depending on tile size option.
Wood Paneling
Wall paneling is another one of those materials that was extremely popular in the 1960s and 1970s and then fell out of favor. Available in synthetic and real wood, wood paneling is installed with adhesive, paneling nails or both. Standard sheets run approximately 48" wide and matching trim is also available to conceal irregular joints at corners, the floor and ceiling. The prices for wood paneling vary depending upon material. MDF is the cheapest at about $10 per 4'x8' sheet. You can also find other decorative panel options including those that mimic stone or brick, which cost about $25-$35 per sheet.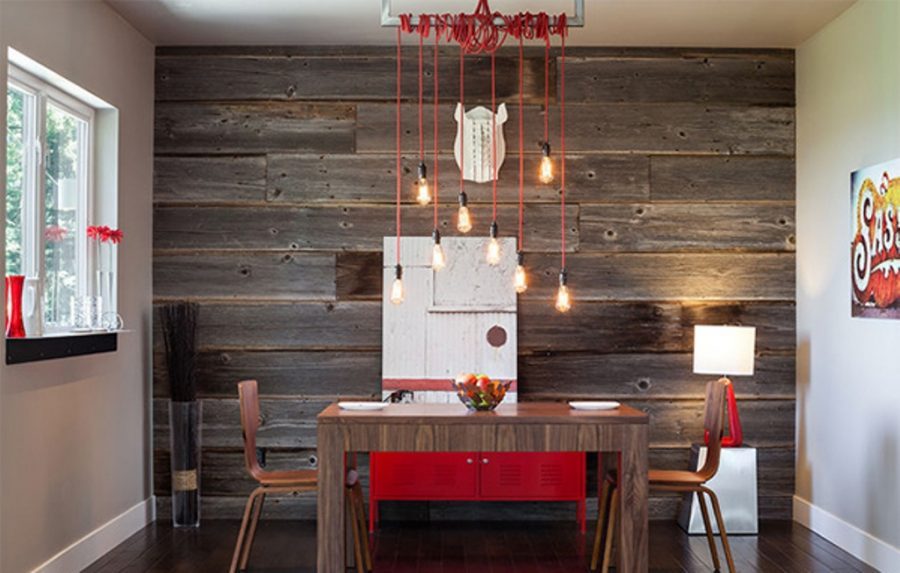 Fasade Wall Panels
Fasade faux tin wall panels are a great option for the DIY homeowner who wants to add interest to any room. See our wall panel galleries for the different ways you can use Fasade wall panels in your home.
Full panels measure 4'x8' and cover 32 square feet. They can easily be cut to size and used as wainscot as well. Manufactured from composite thermoplastic, they are waterproof and corrosion-resistant for exceptional durability. They are simple to clean using warm water and soap and a soft cloth.
Available in unique colors ranging from earth tones to metallic to white or black, they coordinate easily with current style trends. They are also available in a number of designs, from traditional to modern and contemporary. Some Fasade wall panels are also available in a thinner material including the Diamond Plate Chrome design which measures .028 inch and costs $99.99.
Not sure what to choose? Take our Style Quiz to get a better idea of what appeals to you and your decor aesthetic, and to help you narrow down your choices. For even more ideas on how to use our panels, both on your walls or in other creative ways, visit our Alternative Use Galleries.
You can finish your Fasade wall panel product with accessories. Trim pieces are available and provide your wall panel project with professionally finished edges. The trims simply slide onto or over a cut edge to give a finished look. They are available in each Fasade finish.
When you want to cover a large space in your home such as an accent wall or a whole room, you have many options based on the material you select and your budget. For creative inspiration on how to use Fasade wall panels, see our wall panel galleries. Or, take our style quiz to help give focus to your décor aesthetic. You can also speak to a customer service representative for expert advice.